This is a non-exhaustive list of matters I'm currently handling. These are shortened summaries of each item to keep it easy to digest. More details are available if you want to volunteer.
There are quite a few other stuff like administrative and day to day things that I handle such as payroll, HR, exchange relations and also dealing with logistics and other partners but I won't list them here.
The purpose of this post is to give some insight as to some of the things I do, and where community can step in and assist. There is no sugar coating in all of this and I'm stating it as it is so that the community has an accurate picture of what needs help.
If you see something you can help with, please do volunteer but please do only volunteer if you're equipped to do so!
1. CORE DEVELOPMENT
(a) Lelantus Spark
Work has already begun on implementing Lelantus Spark into the wallet.
Researchers have indicated that replacing our curves with Ristretto curves should lead to significant verification time improvements but may add additional development time and is a significant infrastructure addition since codebases need to support two curve groups rather than the usual Bitcoin ones.
Decision to leave this to a later time to not add delays to Spark due to added difficulty.
(b) Elysium v1
We're getting it to the state for release but still experiencing some slowdowns and bugs in some areas. Monitoring Peter and Praxit on these issues.
(c) Mobile wallet IOS
Testing this in TestFlight. Should be ready to go soon once bugs are ironed out. Working with Zorayr on the team on this with Anwar/Ajay assisting on the testing. Additional testers are welcome.
(d) Feature set of Elysium v2
To evaluate what set of features we want for Elysium v2 which would implement Spark Assets. Considerations include the best way to enable cross-chain bridging, stablecoin support etc and whether we want full smart contracts or a limited set.
(e) More integrated swap features and RAP addresses with Firo Client
We are testing no-KYC swap features as Switchain isn't reliable. Adding ChangeNow, StealthEX, Swapzone and Exolix. Swaps within the wallet will give a small % of profit to core team.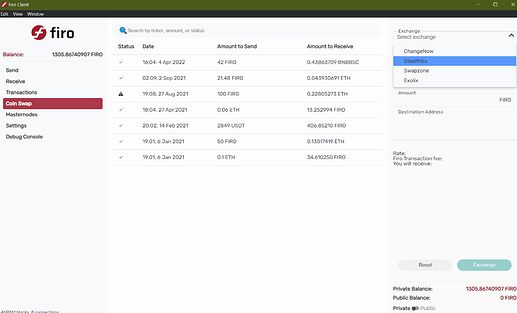 Praxit has half finished RAP address integration but is focusing on Elysium at the moment.
2: SIDE DEVELOPMENT
(a) Firo BSC Farm
Working with Arcadia on developing https://farm.firo.org/ but may need to put on hold due to core team unable to sponsor the liquidity incentives for this with current budget.
The code is done but the APR display is often off.
Would appreciate someone familiar with Solidity and able to test to lead this and work with Arcadia to complete this and perhaps a community sponsored incentive is possible.
While FIRO-BEP20 doesn't have privacy and is centralized as it's issued by Binance, there are some nice things to do with it such as build NFT projects (see below), AMMs and lending protocols with it. Swaps between FIRO-BEP20 and native FIRO can be done via FiroDEX.
(b) Privacy Primates NFT
Fahim (of Firo Punks fame) has created privacy primates and some of the assets required for it. I haven't had the time to manage this so it's at a standstill. This is not a paid project and a work of love and support. People who are interested can probably take this up.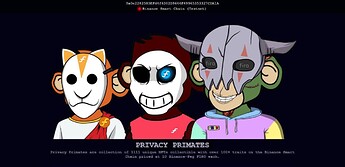 (c) Firo Foxes NFT PFP
This is a personal project that I have funded with my own money. The idea is to have NFTs that we can award to community members who contribute to the project and have the traits reflect their contributions! Others would be for sale and a portion of proceeds will go towards the Firo fund. Need ideas on who should be on whitelist, how to sell etc.
To consider making this only purchasable with FIRO-BEP20? but need to solve liquidity issues for FIRO-BEP20 since no more Binance Bridge and not many people may want to use FiroDEX or have access to Binance. Or to list directly with Binance NFT Marketplace?
@altcoingamer and @frore are also assisting on this.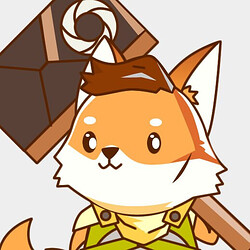 3: RESEARCH
(a) Aura voting system
Cryptographic paper is finalized and waiting internal review before publishing to IACR. To figure out this fits in the Firo ecosystem and wider DAO applications. Looking very promising. Still a lot of work to do to work out full security proofs but may need to raise grant money to complete this.
Figuring out how it fits into Firo's governance as to who should be entitled to vote and the details on giving voting tokens needs to be worked out. People with extensive knowledge on DAOs would be appreciated as I haven't had the time to deep dive into it.
(b) Presenting Lelantus Spark at the 6th Workshop on Trusted Smart Contracts
Working out details and cost of sending Aaron Feickert to represent us to present Spark at this prestigious workshop. This is estimated to be in the range of 2000 USD (for hotels, flights and conference tickets) and would appreciate community contributions on this. If we don't send him, Spark would not be presented. Originally the event had virtual presentation options but due to lifting of covid restrictions, the organizers have changed it up and now require in person attendance.
(c) Elysium v2 feasibility
To also evaluate whether creating our own privacy ecosystem makes sense or join into another ecosystem for this with a larger community base and position ourselves as the privacy layer for that ecosystem. Also what are we trying to be in an easy to explain way? Tornado Cash for the entire crypto-ecosystem? A lot of technical and possible regulatory risks that need to be evaluated. Need people or companies willing to build on this layer otherwise.
4: STRATEGY AND DIRECTION
(a) Generating additional income streams for core team
We are operating at a slight shortfall with the current drop in prices and need to find ways to supplement income be it with donation drives or other income streams. Appreciate input or community led efforts. Ideally Firo's price is at USD4.00 to maintain current commitments. There is room to cut but not ideal. You can view the latest report (not much has changed) here.
(b) Evaluating potential cooperation/merger with other projects
There are two projects that have expressed interest in a merger/cooperation of some sort. One is a privacy focused project of a similar size with a large user base and another is a well funded token ecosystem that has a very ambitious plan to be a non-EVM omni-chain bridge for cryptocurrency.
Before presenting to community, we are speaking with the relevant project leads/core team to see if it's feasible or makes sense. One would involve some sort of chain merge with quite a lot of incompatible tech but similar goals, while another would retain a great degree of autonomy but also is a bet on the success of that ecosystem that has yet to be fully designed or built out.
This is a longer term play (looking at quite a lot of work and some may even take 1-2 years to complete) but may need additional people with technical knowledge on cross-chain bridges and the wider token ecosystem to help evaluate feasibility.
There are discussions on whether to embark on a smaller 'test' cooperation tasks to see how the teams work together or to do joint funded research. This can be facilitated through @sgp's MAGIC Fund.
(c) Managing Community Poll
To decide what should be the final decision from the poll? To average the top two or just take the top choice or to have a revote of top choices?
Also to gauge community sentiment (new thread?) on accelerating block rewards two times by dropping block times to 2.5 minutes but keeping block reward at 12.5 FIRO/block.
5. GROWTH, COMMUNITY & AWARENESS
(a) Hummingbot Liquidity Campaign
This is ongoing with Gate.io and Binance on the FIRO-USDT pairs.
Gate.io volume hasn't been amazing despite the campaign so to monitor performance and to consider switching it to Binance FIRO-USDT exclusively.
We were advised by Hummingbot to let the campaign run for at least 3 weeks as it takes time for the campaigns to ramp up.
I have no issues handling this though having community support in sponsoring the liquidity incentives would help.
(b) Firo Fiends Show
To coordinate with @FiroHero to continue episode 2 of the Firo Fiend show and work out content/guests. I could use some help here or volunteers to be a guest on the show of why you joined the Firo community and why it's important to you etc or comment on ongoing happenings.
(c) Show with Kristy and Voskcoin
Planned Wednesday show to address the community poll and to discuss the role of GPU miners in Firo and the bigger picture.
To get additional guests? @MeanHash would you be interested?
(d) Long Form text Interview with Crypto Fireside
Just completed and will be published on Hackernoon and other places.
(e) Managing Turkish/Chinese/Japanese/Vietnamese/Philippines/Russian/Indonesian Communities
Some of these communities are run by paid community managers who merely translate and do not truly embody Firo's ideals. We are looking for volunteers to help expand Firo's community to other language regions and to manage them. The Chinese, Indonesian and Turkish communities are quite well run but need to be upkept and grown.
(f) Firo Whitepaper
We don't actually have a whitepaper. I did engage someone to do it but it didn't come out the way I wanted though willing to share the unfinished work. It would be good to have a whitepaper writeup of Firo to make it easy for newcomers to digest what we're all about.